Even though there are many exciting multiplayer games such as Fortnite, PUBG, ML, COD, and others, many gamers remain loyal to the offline adventure genre, aka adventure, which can be played comfortably without worrying about an internet connection.
The adventure genre game is a type of game that lasts quite a long time and has a lot of fans. This is because this one genre always provides spontaneous stories and experiences from each of its adventures.
Whether you're a newcomer to the game world or have just been in a vacuum, this article can be an inspiration for those of you who are looking to browse on well-known game download sites.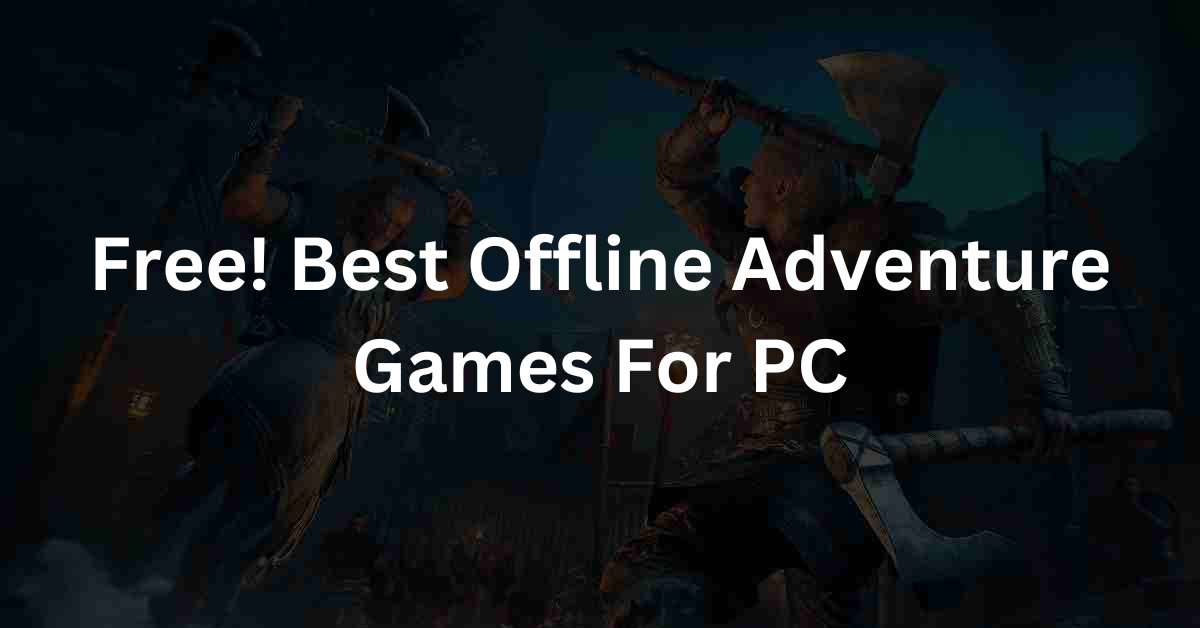 Without further ado like politicians, here are 16 of the best offline adventure games for PC!
1. Metro: Last Light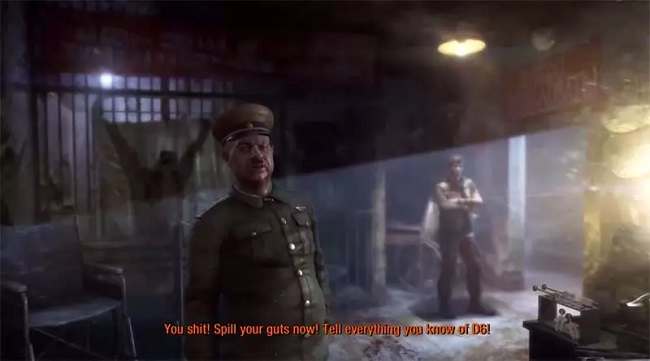 If you are looking for a shooter game that makes your heart beat fast, Metro: Last Light is the right choice. The game continues Metro: 2033, when Artyom tries to maintain security in the Moscow city metro system, where survivors are gathered.
The earth's surface is filled with radiation, water, and soil are unusable, and it has become a nesting ground for mutants who have forced humans to flee to the underground metro.
In 2033, Artyom launches a missile attack on mutants called the Dark Ones. This mutant threatens to wipe out the entire human population. S
A year later in the Last Light era, one mutant still remains. Artyom and the military force known as The Rangers are hunting for this last mutant in order to wipe it off the face of the earth. Unexpectedly, this mission is not as easy as it seems when they realize that the target is a child.
Metro: Last Light is a first-person shooter full of interesting weapons. The fun in this game is doubled when ammunition and equipment become scarce, forcing you not to waste bullets.
Metro: Last Light is a very fun and tense shooter, shrouded in an aura of darkness and a story that makes every step interesting.
2. Wolfenstein 2: The New Colossus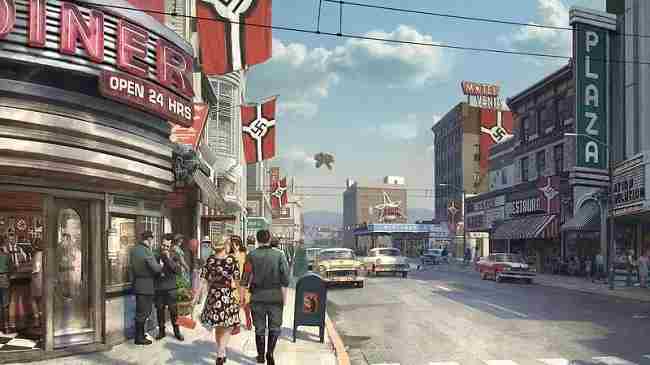 Set in America in 1961, you will become a war veteran named BJ Blazkowicz and lead a rebellion against the Nazi regime. This game presents an alternative story from history, with lots of plot twists in it.
The story of this offline pc war game started when Blazkowicz was a child. He realized something when his father was angry when he played with his black friends.
According to his father, the white race has the highest caste of all other races. Not stopping at race, he also expressed his hatred of homosexuality, women, and other religions.
It was here that young Blazkowicz was taught to be 'strong', and he was forced to kill a dog with a shotgun. The game won't continue until you pull the trigger.
stop there? Of course not. Soon after you will be confronted with a character who commits heinous murders against rebels, then plays with his head. All of this is served in the first 10 minutes.
3. Far Cry 5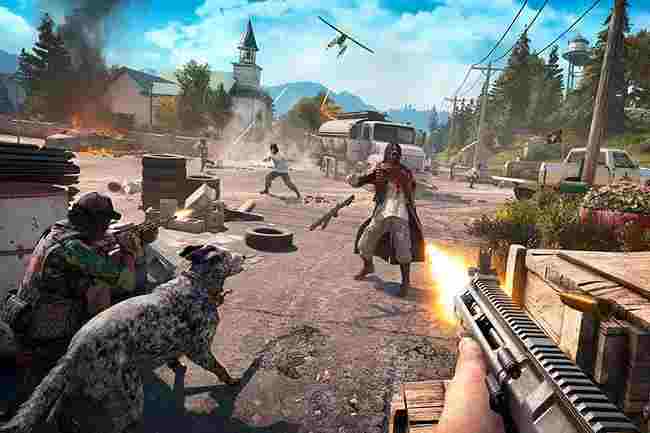 Surely you understand the name Far Cry. Go on an adventure exploring nature, passing through settlements and conquering areas. In Far Cry 5, you will act as a security officer whose job is to eradicate and arrest a leader of a heretical cult called Project Eden's Gate.
Far Cry 5's main difference from its predecessor is the elimination of the annoying radio tower system. You can unlock the vast and challenging Montana map by exploring it.
The biggest drawback of this open-world game is the characterization and storytelling. The ending can be said to be mindblowing but annoying, the main character (you) in this game doesn't even speak at all, which of course cuts your closeness points with the characters in the game.
4. The Elder Scrolls V: Skyrim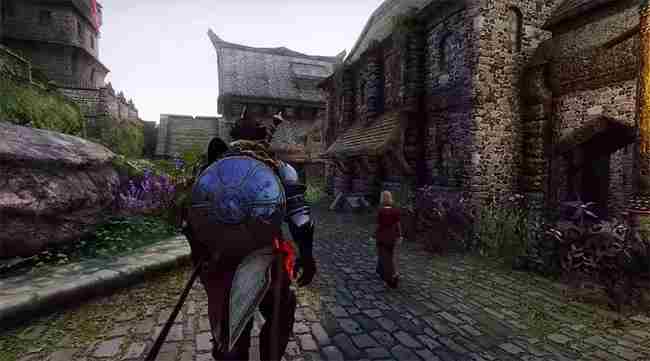 If you don't know Skyrim, you can be sure you're a little too busy taking care of other things besides focusing on playing the game. The game made by Bethesda, which was first released in 2011, has become a top series for adventure PC games of its kind.
You will explore Skyrim, and Tamriel, where all lands are ruled by dragons. You will find that you are Dragonborn, and have the ability to absorb the power of dragons to learn new knowledge. With this ability, you must defeat Alduin before he destroys the world.
Skyrim tells the story of 200 years after the Oblivion era, and presents open-world gameplay similar to Grand Theft Auto or Red Dead Redemption.
You can do anything and anytime without restrictions, and you can also enter dungeons or carry out missions as long as you have the keys, equipment, or whatever materials you need.
You can attack enemies at close range with swords and hammers, attack while hiding with arrows, or destroy enemies with magical powers. Everything depends on your taste.
The success of this series has been so great that fans doubt there is a new game that can compete with TES V: Skyrim.
With this much success, it's no wonder that the developer keeps releasing new versions of this game with updated graphics and performance. If you are a fanatic of open-world games, this game is a must.
5. Eastshade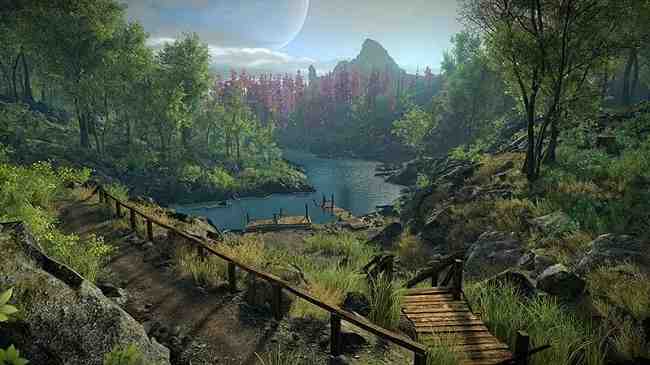 Travel through a world so beautiful, you'll be disappointed that it only exists in the game. Eastshade is a must-have game for those of you who like to explore adventures full of art and beauty.
The opening of this game is a bit slow, a little geeky in the introduction, and feels a bit 'distant'. But the longer you play, the more you will be trapped by the beauty of nature, graphics, and music.
In this game, you will act as a painter who wanders through a very beautiful fictional world. The objective is to paint some of your deceased mother's favorite objects.
6. Room Three
The best game in The Room series. Room Three is the first game in the series to truly capitalize on the puzzle-adventure genre.
With various areas to be explored, lots of challenges to be completed, as well as a continuation of the story and the previous The Room series, you need to try this game if you are interested in the puzzle-adventure genre.
7. Return Of The Obra Dinn
A game full of aesthetics that requires intelligence from the players. Return of the Obra Dinn is a logic puzzle beautifully packaged as an adventure game. It has also received high ratings on several international game review sites.
8. Life is Strange
In Life is Strange, you are given the freedom to make decisions that determine the storyline. Not only for the adventure genre, this game also ranks 2nd on the list of the best PC games of all time.
Packed with a story full of twists and a beautiful setting, Life is Strange will bring a new perspective for you adventure game lovers. Get ready to shed tears for the ending!
9. Devotions
Devotion is a first-person psychological horror game developed by a Taiwanese developer, Red Candle Games. This PC horror game is set in 1980s Taiwan, with the majority of the game set in an apartment complex in Taipei.
10. Devil May Cry 5
This legendary game series is back with original characters, as well as guaranteed action as usual. It's impossible for adventure game lovers to skip playing this one game.
11. The Walking Dead: The Final Season
If you are a fan of the entire The Walking Dead series, you will definitely understand why this game is in the top 5.
The Walking Dead is an adventure game where you and some other survivors find a way to survive the zombie attack. But unlike zombie PC games in general, The Walking Dead series focuses on the plot, as well as the choices you make to determine the continuation of the story.
It's a game about choices and morals. Throughout the game you will wonder if you made the right choice, or if you regret the decision you made.
12. Dishonored
The selling point of this game is that you actually play all the action, rather than just clicking a few buttons and then just watching the animation.
In this game, you will play Corvo Attano and adventure in an old industrial city full of ruins, which is a hotbed of corruption and dirty politics.
Free gameplay, a decent storyline, beautiful graphics, and ruins setting make this game one of the best offline adventure games in the history of PC games.
13. Gray Dawn
Want to try playing an adventure game about religion? Don't miss game one in.
In Gray Dawn, you will adventure through a priest's horrific memories, whether those memories are true or not, only to prove his innocence.
This game presents grisly religious concepts, accompanied by beautiful settings and challenging mysteries. Anyway, this game makes the brain and soul twist.
14. Detroit: Become Human
Game Detroit: Become Human takes a setting in the future where robots can be traded freely to help humans work. In this game, you will play three different points of view of the Android robot.
The First is Connor; a police robot tasked with cracking down on other robots that stray from duty, then Kara; a female robot who works as a housekeeper for a broken family, and Markus; a male robot owned by an old artist to takes care of him in his old age.
This game carries the action-adventure genre – an interactive story, similar to The Walking Dead and Life is Strange series where the game focuses more on the storyline, choices, and morals (as the title says: 'becoming human').
As an interactive game, of course, Detroit: Become Human does not provide only one storyline and one end. In one chapter, you can find several paths that can be taken, which will later have a significant impact on the continuation of the story and also the ending you will get.
15. Red Dead Redemption 2
After a very long wait, this game is finally released on PC! Many major gaming news portal sources around the world have speculated about the release of RDR 2 on PC, and finally, all of our prayers have been answered.
Red Dead Redemption 2 is an action-packed offline adventure game originally released by Rockstar Games in 2018 for PlayStation 4 and Xbox One.
What's interesting here is the fact that this game actually offers something different from other adventure games, even GTA though. This game offers a slow-paced game with a long story as well as a gameplay reinforcement that delivers the wild west feel it should be.
If in the first story John Marston was the main character, in this second edition with a background in 1899, you will play as a member of the Dutch Van der Linde gang, Arthur Morgan.
16. The Witcher 3: Wild Hunt
The Witcher 3: Wild Hunt is an action-adventure role-playing game played from a third-person perspective.
Here, you will play Geralt from Rivia, a monster hunter known as a witcher or witch. You can walk, run, throw, dodge, and for the first time in the Witcher series: jump, climb, and swim.
You will be equipped with a variety of weapons such as bombs, arrows, steel swords, and silver swords. You will adventure in a vast world through trading cities, pirate islands, treacherous mountains, and many forgotten caves.
In the game, you will fight with various enemies and very powerful mythical creatures. The battle takes place using swords, but the character also has the ability to fire magic that can burn opponents to ashes.
Adrenaline-filled adventure and excellent graphics quality make this game top our list of best offline adventure games.
That's our review of the 16 best offline adventure games. Any criticism or suggestions? Leave a comment below!