For bloggers and website owners, you must know how to increase website traffic. Of course, traffic is the most important thing in a blog or website. Without traffic, the website will not be able to develop.
Getting high traffic is also not easy, you know. Yep, nowadays the internet is really full of various kinds of content.
So, bloggers and website owners must ensure that their websites can stand out from the others so that the chances of getting traffic will be greater.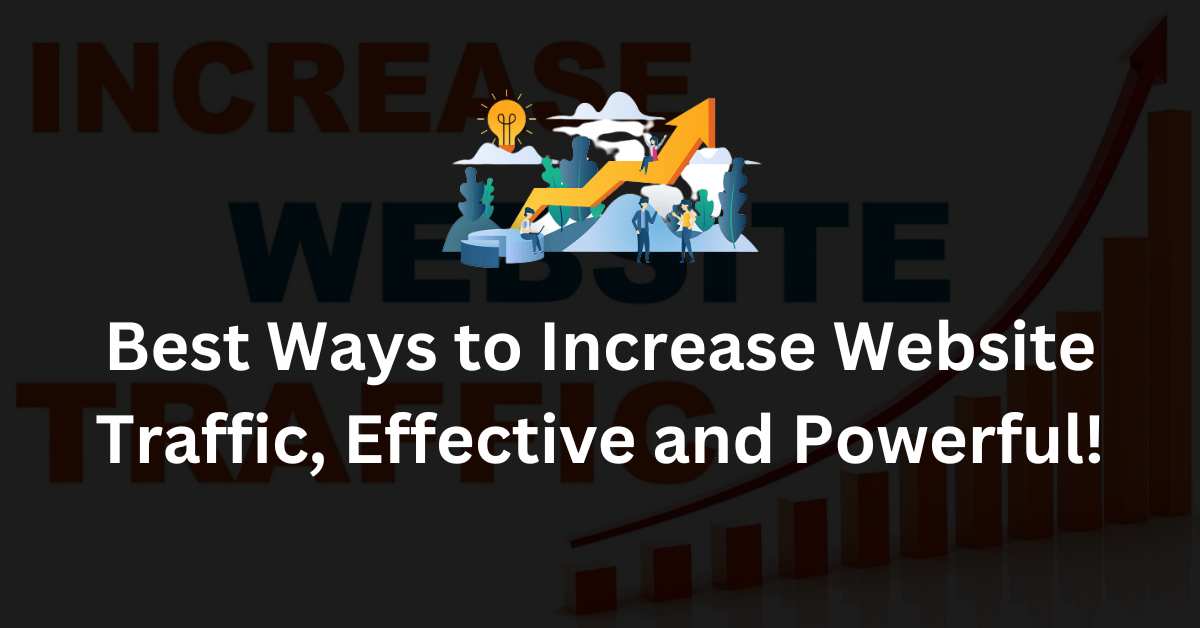 So, in this article, we have summarized several ways to increase blog and website traffic, both organically and for a fee. Immediately see, yes!
What is Traffic?
Before entering into the discussion of increasing website traffic, we first discuss the meaning of traffic.
Traffic means the number of people who visit a website, the pages they view, and the duration when visitors view or read those pages.
When someone visits your website, that visit and all the links they click and follow will be recorded by your domain.
Later, these data can give you an idea of ​​how popular your website is. After that, you can also do data mining to make the best decisions for the company.
Why Does a Website Need Traffic?
Traffic is so important for the sustainability of a website. Without traffic, the website will not be able to grow, and be difficult to become popular.
Even. the website can be threatened with 'drowning' among other websites on the internet.
Just imagine if no one visits your website, it will slowly sink. That is why every website needs visitor traffic.
In addition, traffic can also be used to review how effective search engine optimization is applied.
There are at least three reasons why you need to consider the importance of website traffic, especially in e-commerce :
Traffic from users who are interested in the contents of your website or products will be more likely to spend more time on your website and tell more people about the website.
If people spend more time on your website, there is a possibility that they will sign up for your website newsletter or receive promotional content which can later make them repeat customers.
For business, you need to get website traffic to make a profit and ensure that your business runs smoothly.
To check website traffic is quite easy. You can use several free to paid online tools such as Google Analytics, Ahrefs, SEMrush, and Ubersuggest.
How to Increase Website Traffic?
Here are some ways to increase blog and website traffic that you can do:
1. Do SEO
Search Engine Optimization or SEO is a series of efforts to increase the visibility of a website on search engine pages.
SEO techniques that are applied correctly will help increase the website's ranking in the SERPs and increase organic (free) traffic to the website.
SEO is divided into three types, namely on-page SEO, off-page SEO, and technical SEO. The following is a discussion of each in outline:
On-page SEO: efforts to optimize various parts of the website, including the content. Things that can be done such as making interesting headlines or titles of no more than 60 characters, creating meta descriptions that contain the main keywords, using header tags (H1, H2, etc.), using alt text on images, and so on.
Off-page SEO: efforts made to optimize the website from outside the website. Things that can be done such as building quality backlinks, using anchor text, enriching internal linking, and so on.
Technical SEO: efforts made to increase website authority by optimizing its technical side. Things that can be done such as paying attention to Google's crawling and index, paying attention to DA & PA scores, increasing website speed, and so on.
2. Do SEM
Search Engine Marketing (SEM) is a form of marketing on the internet through website promotion activities by increasing website visibility.
Simply put, if SEO is an organic (free) way, SEM is a paid ( paid ) way to increase website visibility.
One of the most common examples of SEM is Pay Per Click (PPC) , which is advertising a website.
Websites that use PPC can be seen through the 'Ads' description next to the articles that appear on the search page.
3. Long-tail keywords
Long-tail keywords are keywords that consist of more than three words. For example, "How to increase website traffic" or "Online business without capital".
Long-tail keywords usually have a lower search volume than short-tail keywords but tend to have less competition. You can start targeting high rankings on long-tail keywords first before competing on short-tail keywords.
4. LSI keyword
Latent Semantic Indexing (LSI) keywords are words or sentences that are considered semantically relevant by search engines. The goal of LSI keywords is to maximize keyword variations on a given topic.
For example, if the keyword "how to make a website" then the LSI could be "how to make a website" or "how to make a website". This LSI is needed so that an article is not keyword spamming and becomes more humane when read.
5. Regularly publish content
Regularly publishing content is one step to ensure that your website is always 'alive' and up-to-date. So, website traffic will increase if you regularly publish content.
Regularly writing and publishing content also helps improve your website's ranking on SERP. Basically, the more regularly you write and publish new content, your website will receive more website traffic. But keep in mind, make sure to only create quality content.
6. Quality content
It should be noted that good content is informative content, so in-depth research is needed. This is to ensure that the content is detailed, interesting, and unique.
You can also use multimedia such as images, videos, and infographics to create interesting content. Longer articles are usually rated as more informative.
There are several things to keep in mind when creating content:
Avoid 'copy-pasting' other people's articles
Use synonyms so you don't use the same word over and over again
Avoid discussing things that are not related to the main point of the article
Create professional articles
If you want to create more interesting content, you can add multimedia to your posts such as images, infographics, and videos. For this type of content, it's a good idea to always create evergreen content because it will always be sought after by users and is timeless.
7. Update old content
Apart from regularly publishing new content, you also need to update old content as well as evaluate content. Evaluation of this content is important to find out the performance of each content that has been published.
Through content evaluation, you will find content that has not generated significant website traffic. Don't delete these contents, you just need to fix them. Do keyword research again and maximize what is still a weakness in the content.
8. Competitor research
In any business industry, paying attention to competitors is an important step. With competitor research, you can find out what needs to be developed in your business.
You can do this with the SWOT analysis technique. Apart from that, there are various tools that you can use for competitor research, such as Ahrefs and SEMrush.
9. Community blogging
You can also join blogger communities like ProBlogger or Copyblogger. This is one way to connect with other bloggers and promote each other's blogs.
Interaction with other bloggers and influencers is also very important as a way to increase your blog traffic. You can also contribute to each other's websites or blogs. They will also be more likely to share your content on their website or social media.
10. Forum
Apart from the community, you can try sharing your articles on forums like Reddit, Kaskus, or Stumbleupon. One of the advantages of forums is that you can find the right niche and readers for your website content.
11. Guest-blogging
Guest blogging is writing content for well-known websites or blogs. This can help increase blog or website traffic and build your brand at the same time.
But you have to be careful and ensure that your guest-blogging content is of high quality. In creating guest-blogging content, make sure that the content is creative and in accordance with the niche of the blog.
Avoid link stuffing or inserting many links at once into your articles to increase website traffic because you can be penalized.
Apart from guest blogging, you can also write for other media such as newspapers or magazines related to the topic of your website or blog.
Don't forget to mention your website and blog because writing for well-known media opens up opportunities to reach more readers.
12. Take advantage of social media
It's not enough just to create quality content, the next way to increase website traffic is to actively socialize content to get people to read it.
If you share your content on social media sites like Facebook and Twitter, you can get a new audience for your website. Especially if your content is of high quality, it can get more shares and has the possibility to go viral.
13. Do digital marketing
Apart from the free methods above, you also need to occasionally use digital marketing techniques to increase traffic on your website.
Digital marketing is an effort or strategy in promoting products through all types of digital media with specific marketing objectives.
This method is a little expensive, however, the results will be useful if you put the correct call-to-action at the end of the content you are promoting.
Examples of digital marketing that can be done such as affiliate marketing, email marketing, and Social Media Marketing.
14. Consistency and patience
Apart from all the methods above, consistency, patience, and discipline are important. This may sound cliche but it's true.
If your consistency is maintained, your website's domain authority will also increase. You also have to be patient because SEO won't work in a short time.
It takes time before you can finally see the results. So, keep consistently doing your best and the best results will come with time.
Let's Increase Your Website Traffic!
Those are some ways to increase website traffic that you can try. In essence, getting high traffic on a blog or website does require consistency, patience, and discipline in creating content.
If this has been fulfilled then your website should have stable traffic. Good luck, huh?