Like we use PCs and Smartphones from day to day to the routine. This device makes our lives simple and easy.
We access the internet on this device and access services that are useful for obtaining information and entertainment.
Many websites, applications, and games are available for our devices. Smartphone applications are increasing rapidly after Android OS enters the market.
Android is an open-source OS for mobile devices that attract developers. Millions of different applications are available on the Play Store.
We have included some of the best Android applications and game lovers also include the best Android games.
Even many applications are available that help finds lots of useful information.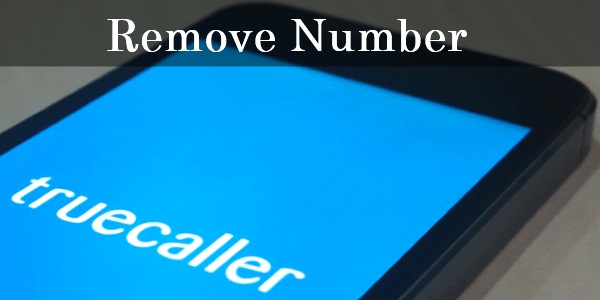 The basic purpose of mobile phones is to call so we are a number of applications that help improve the calling feature.
As we all want to know who is calling from an unknown cellphone number. There are many sites available on the internet to get this information.
But for smartphones, Truecaller is one of the popular applications for tracking cellphone location and username. Truecaller has a global telephone number directory.
You can easily track numbers when you get a call from an unknown number. But Truecaller completely destroys the privacy of your telephone number.
If you contact an unknown person intentionally or call the wrong number then it will be a serious problem. So to secure details of cellphone numbers that need to be deleted.
Our main motive is to secure and maintain the privacy of our numbers. If you want to know how to delete your number from Truecaller then read this article because today we will discuss a method for removing numbers from the Truecaller database.
Deactivate Truecaller Account?
Before enlisting and removing your phone number from Truecaller, you must first deactivate your Truecaller account. Follow the upcoming steps to do it.
Open the Truecaller application on your cellphone.
Tap on the Hamburger icon on the home screen from the top left corner
select the Settings option from the list
click Privacy Center
Scroll down and tap on the Disable option.
Confirm by pressing YES to the popup that says "By deactivating your account, your data will be deleted. Would you like to continue?"
Now, your account will be deactivated for some time. After this, to unlist and remove your phone number from Truecaller, follow the next step.
How to Delete Numbers from Truecaller?
Step 1. Open your Web browser and type the following URL without Quotes and press Enter.
http://www.truecaller.com/unlist
Step 2. Now you see the Truecaller Unlist Phone Number Webpage. Scroll down the page.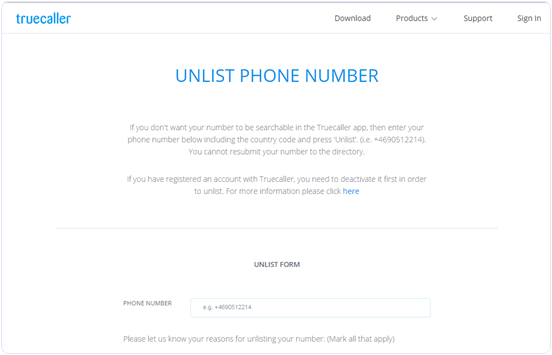 Step 3. On this page, you must choose several options such as reason, verify the captcha and verification code and enter your telephone number, etc.
Step 4. After filling out the form you have to click on the unlist blue button After that your number is successfully deleted from the Truecaller database.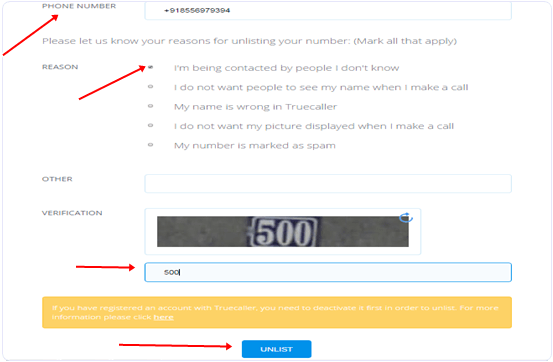 Note: – Before releasing your number you must deactivate your Truecaller account so that Truecaller verifies that the real owner is the number.
Frequently Asked Questions (FAQs)
Can I remove my phone number directly from the list without deactivating my Truecaller account?
No, you must first deactivate your Truecaller account from the app or the web. Only then can you request to delist the desired phone number, as described in the article above?
How long does Truecaller take to remove a phone number from the database after an unlisting request is made?
Truecaller usually takes up to 24 hours to delist numbers and remove names from the database. However, it may take more than 24 hours for the delisting process to complete. So, if you find that Truecaller's search results show your name and number, try removing it from the list above again.
Will my name and phone number be removed from the Truecaller database after I remove them from the list?
When the delisting request is completed, your name will be removed from the search results and databases linked to the phone number. However, the phone number remains in the anonymous Truecaller caller ID. This means that other Truecaller users won't see your name when they receive a call from your number.
How to delete a phone number from the Truecaller Android or iOS app and remove it from the list?
You can deactivate your Truecaller account from your Android or iOS app. However, as previously mentioned, you must use the Truecaller Unlisting Web page to delist the phone numbers from the Truecaller database. The Truecaller iOS and Android apps focus on caller ID tracking, call blocking, video and voice calling, chat, and messaging. The Truecaller unlisting action can only be done from the official Truecaller website.
Can I reuse a previously unregistered Truecaller phone number?
Yes, you can use a Truecaller number after deleting it from the list. You can create a new Truecaller account with the same number and give it whatever name you like. The given name is registered in the database, and other users can see the name and number by phone or in search results.