How to Delete Call Logs on Instagram – Instagram is a photo and video sharing platform in the form of a feed that is quite popular in the world.
This platform was initially presented to make it easier for users to store their photo and video collections in the form of an Instagram feed.
However, as time goes by, the features on Instagram are increasingly expanded so that they are not only used for storing photos and videos.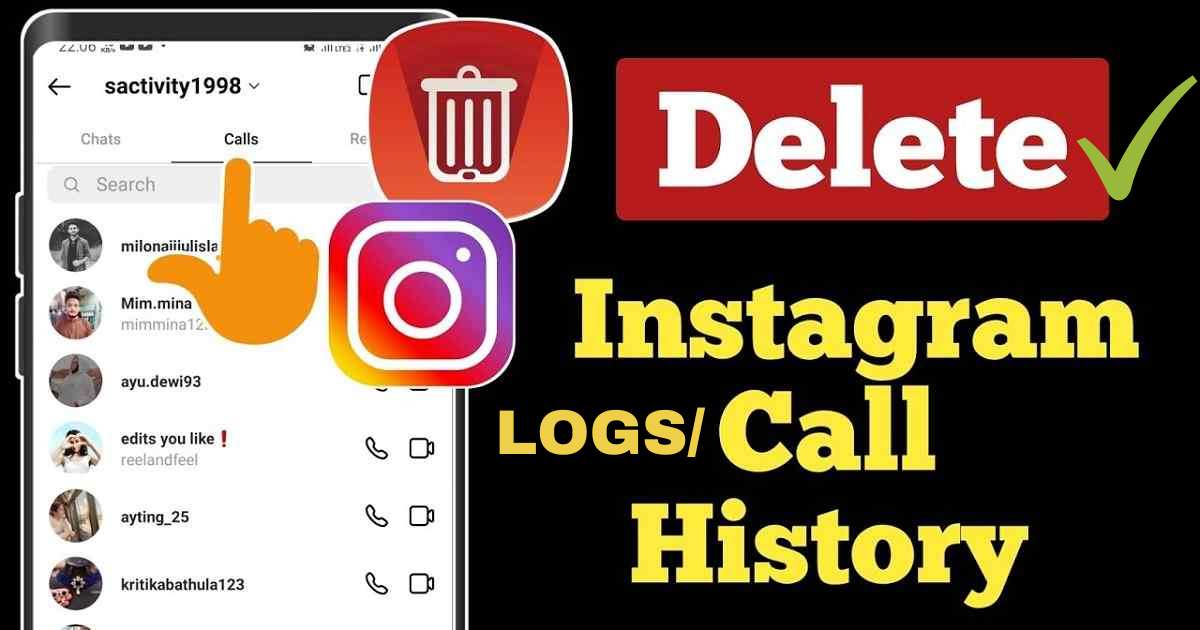 On Instagram, it is possible for us to interact with each other by uploading photos and videos to the feed. Apart from that, there is also a chat feature called Direct Message or Instagram DM.
Through this feature, we can chat with other users around the world, both those who are already friends and new people.
Chatting may be considered by some people to be less practical because you still need to type the message you want to send.
Because of this, Instagram now also provides a feature that allows users to make calls, both voice calls and video calls. The video calling feature on Instagram can even be used to make group calls, that is, it can connect many users in one video call room.
This is the reason why many people still faithfully use Instagram, especially when it comes to communicating with friends or other people.
However, keep in mind that to make calls on Instagram you need to first connect to the internet network.
Make a voice call or video call on Instagram, the activity will be automatically saved by the system. This list of call history on IG will be saved on the Instagram Call Log page or feature.
In this case, you are given full rights to manage the call log list. Maybe for some reason, you want to delete the automatically saved phone history on Instagram.
For example, you don't want someone to find out that you have called someone else via Instagram Direct Message, or for other reasons.
Don't worry, Instagram has provided a feature to delete the call history list in Instagram DM. Here's an easy way to delete call logs on IG that you can see and apply yourself.
About the Call Feature on Instagram
The Voice Call and Video Call feature on Instagram can be accessed via the Direct Message page. To do this, you need to visit the Instagram User Profile page you want to call, then click the Send Message (DM) menu.
On the Instagram DM page with your IG friend, you click on the Phone icon (to make a voice call) or the Camera icon (to make a video call).
After making a call or calling on Instagram, the phone history will automatically be saved. You can see it on the Instagram DM page with the friend you just called.
Usually, the phone logs on Instagram are joined to the chat history. Unlike other social media platforms, where chat and call history will be in a different place.
Because DM IG history and call logs are in one place, deleting them will affect all stored history. In this case, if you want to delete the IG call log, all saved DM history will also be deleted. This deletion will be permanent, so it cannot be returned.
How to Delete Call Logs on Instagram Android
To delete phone history on Android IG, there are at least 2 ways you can do it. What is certain is that these two methods are very easy to apply, even for those of you who are still beginners.
The two methods in question are temporary and permanent deletion of IG call logs, you can choose one of them according to your needs.
The complete easy way to delete call logs on Instagram Android is as follows:
1. Delete Call Logs on Temporary IG
This first method will delete the temporary phone or call history list on Instagram. So, in the future, you can still restore your deleted phone history and chat history.
Instead of deleting chat data and call logs, this method will actually eliminate or hide them. So, on a DM page with a friend on Instagram, their chats and call logs will disappear. In this case, we can take advantage of a feature called Lost Mode in Instagram DMs.
Lost Mode in IG DM functions to close chats so that all chat history and call logs in one chat room cannot be seen, either by you or your IG friends.
This feature can be turned on and off at any time and can be used for individual DMs with friends on Instagram. We can use this mode to delete temporary call logs with friends or other IG users.
For the steps to do it yourself, namely:
The first step is to open the Instagram application on your Android phone.
Make sure you have logged in to your personal IG account and your cellphone is connected to the internet network.
On the Instagram Home page, you click the DM or Chat icon in the top right corner of the display.
Then select one of the DMs whose chat history and call log you want to delete.
On the chat page in the DM, you swipe up on the screen until Lost Mode is activated. This means the screen will go dark and all DM and phone history will be lost.
Finished.
NOTE : IF YOU INTEND TO BRING UP THE CHAT AND PHONE HISTORY AGAIN IN THE IG DM, DO IT AGAIN BY SWIPING UP ON THE SCREEN.
2. Delete Call Logs on Permanent IG
Different from the method above, this tutorial can be done if you want to permanently delete the call log on Instagram.
Please remember, this method will not only delete the call log but all chat or DM history with the IG friends you choose.
And the deletion is permanent, meaning that DM history or phone logs cannot be restored.
The steps to permanently delete call history on Instagram are:
Your first step is to open the Instagram application on your Android cellphone.
Make sure you are logged in to the IG account that you want to delete the phone or call history from.
On the Instagram Home page, you click on the DM or Chat icon in the top right corner of the display.
There a list of DMs with IG friends will be displayed, along with a list of calls made. Now you press and hold DM with the Instagram friend you want to delete until several options appear at the bottom of the screen.
Next, click the Delete button.
Then confirm the permanent deletion of the DM by clicking the Delete button again.
Finished.
In this way, DMs with IG friends along with call logs made with them will be permanently deleted. Do the same if you want to delete call logs with other IG friends.
Closing
Those are two ways to delete call logs on Instagram that are easy and practical for you to apply. Don't forget to share this information on your personal social media account.