Android Process Media Has Stopped – Android cellphones are one of the gadgets that are most needed today, in fact for most Android cellphone users they are one of the most important needs.
This is because Android cell phones have lots of functions that can certainly make various daily activities easier for users.
Additionally, there are many applications available on Android, where these applications have functions or uses that can be adjusted to suit the user's needs.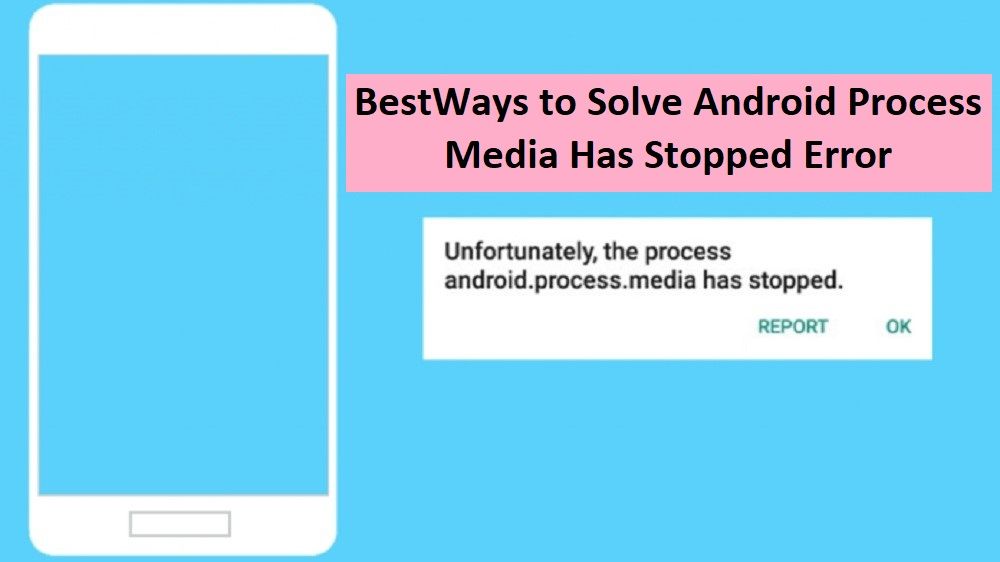 On our Android cellphone, it is also possible to store various media files, be it photos, videos, music, and other types of files.
This file itself will be stored in the cellphone memory, be it internal memory or external memory. Meanwhile, the way to access it yourself can be through the File Manager menu which is installed by default on Android phones.
However, if you think the default File Manager menu on Android doesn't have complete features, then you can install another File Manager application via the Google Play store. There are many choices of File Manager applications there which of course you can use for free.
Talking about media files on Android, sometimes there are error problems that can be experienced in them. One of them appears as an error message on the Android screen that says "Unfortunately, android.process.media has stopped" or "Unfortunately android.process.media has stopped".
This message informs you that there is an error or bug that has occurred in media file management on Android, either in the Download Manager or File Manager application. So, how do you solve the problem that the Android media process has stopped? You can see the complete information below!
Reasons Unfortunately Android Process Media Stopped
Before proceeding how to resolve Android media processes that have stopped, you should first know what is the main cause.
From the analysis of the attached message, it is very likely that this problem is caused by an error or bug in the storage of media files on the cellphone. Where this task is carried out by the File Manager menu which is the place to manage files on Android.
Apart from that, this error message could also appear because the memory on the Android cellphone is full. Not external memory, but internal memory installed on the Android cellphone. You should check whether this is really happening or not.
The final cause is a bug in the Android system which causes the Android media process to keep stopping. This is what happens most often and is not realized by users.
How to Solve Android Process Media Has Stopped
Now move on to how to fix the Android process media stopped the problem. This method is said to be very easy and does not require long steps.
Even those of you who are still beginners will have no difficulty implementing this method. The easy way to solve the complete Android process has stopped is as follows:
1. Turn off your Android cellphone
The easiest way to solve the problem of the Android process continuing to stop is to restart the cellphone. This method will fix various minor error problems on your cellphone, including this one. After restarting, does the error message still appear?
If this is true, then you need to turn off your Android cellphone for a few minutes. Turn off the cell phone and remove the SIM card, SD card, and battery (especially cell phones with removable batteries).
Leave the cell phone for at least 5 to 10 minutes, then reinstall the component. Turn on your cellphone as usual, the error message will no longer appear.
2. Stop Google Account Sync
Another alternative that you can do to solve the Android media process has stopped is to turn off synchronization on your Google account.
There are many benefits you can get from activating synchronization. However, under certain conditions, it will cause the Android system to experience errors, including media system error problems like this.
To stop synchronizing your Google account on your Android cellphone, namely:
First, you open the Settings menu on your Android cellphone.
Then go to the Account option.
Since here we will stop syncing the Google account, select the Google option.
On the Google page, you click the Three Dots icon in the top right corner, then select Stop Synchronization or Stop Sync.
Finished.
3. Stop Media Storage Applications
If the method above still doesn't work, then you can try this third method, namely force stopping the media storage application.
Each brand and type of cellphone has a different name for this media storage. On a Samsung cellphone, the application or menu is named My Files.
You need to force stop My Files, and also delete the cache files stored in it. To do it yourself, namely:
First, you open the Settings menu on your Android cellphone.
Then select the Applications option.
Find and select the My Files application or media storage according to the one on your Android cellphone device.
Then click the Force Stop or Force Close button.
Continue by going to Storage options.
Then select Clear Cache or Clear Memory.
Finished.
4. Delete Specific Application Cache Files
Apart from media file storage applications, you also need to delete cache files stored in several other default applications on Android that are also related to media files.
Other default applications in question include Download Manager, Google Playstore, and also Google Service Framework.
The method for deleting the cache stored in the 3 default applications is very easy, namely:
Open the Settings menu on your Android cellphone.
Then go to the Applications option.
Search and select the Google Play store application. Then go to Storage options and click on the Clear Cache button.
Return to the Application option, now you search for and select the Google Service Framework application. Then select the Storage option and click Clear Cache.
Go back to the Applications option, and select the Download Manager application. Then go to Storage options and click Clear Cache.
Finished.
NOTE : ESPECIALLY FOR THE GOOGLE SERVICE FRAMEWORK, THE NAMES MAY DIFFER ON SOME TYPES OF HP DEVICES. FOR EXAMPLE, SAMSUNG FRAMEWORK, XIAOMI FRAMEWORK AND OTHER NAMES ACCORDING TO THE TYPE OF CELLPHONE YOU HAVE.
5. Perform a factory reset on your Android cellphone
The final way to deal with the Android media process that keeps stopping is to do a factory reset or return the cellphone to its original factory settings. You should back up your data first if there is important data stored in the internal memory.
For the steps to perform a hard reset or factory reset yourself, namely:
Turn off your cell phone as usual.
Turn it on by pressing and holding the Power + Volume Up button for a few seconds until the screen turns on.
The Recovery Mode page will be displayed there.
Next, you select the Wipe Cache option, then confirm by selecting Yes.
If so, continue by selecting Wipe Data / Factory Reset. Confirm by selecting Yes and wipe All Data.
Wait until the reset process is complete, then select Reboot System Now.
The cellphone will reboot and wait until it turns back on.
Finished.
If all the methods above still can't solve the Android problem where the media process has stopped, then you can re-flash or update the firmware on your cellphone. If you can't do it yourself, then you can take your cell phone to a service center.
Closing
Those are some of the easiest and most effective ways to deal with the Android media process. Don't forget to share this information on your personal social media account.