ACE Money Transfer's 3-month exclusive promotion, 'Kumakatok Ang Swerte', for its Filipino customers who send money to Philippines using its services, is near its end. Besides enjoying FEE-FREE money transfers in this promotion, overseas Filipino workers (OFWs) and their loved ones back home can win exciting prizes until the 31st of August, 2023.
Remittances play a crucial role in the lives of Filipino families, serving as a lifeline and contributing to the economic development of the Philippines. Recognizing this, ACE Money Transfer is dedicated to making the process of sending money to the Philippines more rewarding and satisfying for its customers. The current promotion, which has been running since June 2023, is a testament to the firm's commitment to serving overseas workers with the best services.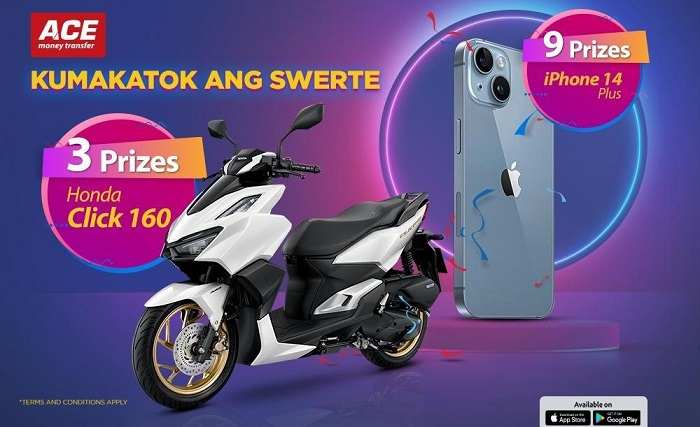 How to Win Rewards when the Promotion is Ending?
Don't worry if you've just learned that the promotion is ending soon. You still have ample time until August 31, 2023, to participate and win the rewards that are mentioned below.
To enter the lucky draws in this promotion and win the prizes you can read below, you just have to send money to the Philippines from the UK, Europe, Canada, Australia, or Switzerland via ACE Money Transfer.
The process doesn't require any specific registration for lucky draws and winning prizes. You just have to be an ACE Money Transfer customer sending money home from abroad via its services.
Sending money to the Philippines is fast, economical, and convenient using ACE Money Transfer mobile app, available on Google Play Store and App Store or via its website. 
Do you know that ACE Money Transfer has another offer that remains active for its valued customers spread worldwide? If you invite your friends and family members living abroad to send money to the Philippines or any other country using ACE's services, you will get rewards. To learn more about this offer in detail, visit the link below: 
ACE Money Transfer's Invite a Friend Offer 
What are the Prizes Included in this Promotion?
You must now be wondering to learn what prizes have been included in this exciting promotion for Filipino expats living worldwide. Here are the massive rewards from ACE Money Transfer that have been offered in the current promotion ending soon.
9 Flagship iPhones 14 Plus – Be the Owner of Luxury
ACE Money Transfer provides an exclusive opportunity for Filipino remittance senders to win one of nine iPhone 14 Plus devices. The winners will get a chance to win these highly sought-after smartphones, adding excitement to the campaign. 
The good thing about participating in the competition is that by simply sending money to the Philippines via ACE Money Transfer during the promotional period, you automatically enter the draw, giving you a chance to own the latest and most desirable smartphone in the market.
3 Brand-New Honda Click 160 Motorcycles for Remittance Beneficiaries in the Philippines
Where ACE Money Transfer supports its expat customers in achieving financial stability through low-cost money transfers, competitive exchange rates, and reward campaigns, it never forgets the remittance recipients. Showing its support for the remittance beneficiaries in the Philippines, the firm has offered one of the most liked motorcycles as a bumper prize for those who receive remittances sent via ACE Money Transfer.
Not only one; there are 3 units of Brand New Honda Click 160 motorcycles as giveaways for Filipino remittance beneficiaries in this promotion. Besides a new-age design and stylish look, this fantastic bike by Honda offers a Navigation Console, Digital Speedometer and Odometer, Launch and Cruise Control, Comfortable Seats with Adjustable Heights, Leg Guards, Back Rest, Adjustable lights, and much more.
So, not only can Filipino expats benefit from low-cost money transfers and rewards, but they can also gift the new, stylish, and powerful Honda Click 160 motorcycle to their loved ones back home by simply participating in this promotion by ACE Money Transfer, which is ending soon.
ZERO Fees on Money Transfers and Prizes That Await You
ACE Money Transfer has offered entirely fee-free transfers for all remittances sent to the Philippines as part of the promotion, which is active from June to August 2023. Allowing ZERO Fee Transfers, ACE enhances the convenience and value of sending money to loved ones back home. This fee waiver ensures that recipients receive the full intended value of the remittance.
How to Increase Your Chances of Winning?
Participating in this captivating campaign is simple; just use ACE Money Transfer mobile app or website to send money to the Philippines until the 31st of August, 2023. 
But how do you increase your chances of winning after participation? Are you looking to find the answer to this common question? Here's the answer:
Each remittance sent serves as an entry into the lucky draw for the 9 iPhones 14 Plus and 3 Honda Click 160 Motorcycle. The more remittances you send, the higher your chances of winning these incredible prizes.
Learn more about this campaign on its Terms and Conditions page available at the firm's website.
Additional Benefits from ACE Money Transfer
Besides fee-free transfers and exciting prizes, ACE Money Transfer offers several other benefits:
Competitive Exchange Rates
ACE Money Transfer ensures customers receive the best value for their money by providing competitive exchange rates. All those looking to get the highest exchange rates must use ACE's remittance solutions since it enables you to check live currency rate updates and decide the best time for your transfer.
Fast and Secure Transfers
The speed and unbreakable security are the two other most prominent features of ACE Money Transfer as it prioritises the safety and privacy of customer transactions, guaranteeing fast and secure transfers.
Extensive Payout Network
ACE Money Transfer ensures that its services are reachable to its customers spread worldwide. It has a network of more than 375,000 payout partner locations globally, which adds to its customers' convenience.
Multiple Transfer Options
ACE Money Transfer enables its customers to choose from various transfer options, including online bank transfers, credit/debit cards, and Google/Apple Pay. It makes their money transfer experience even more convenient and smooth, letting them avoid all types of hassles that are typically involved in cross-border transactions.
Dedicated Customer Support
Having good customer support is always critical for every business since no customer concerns can be resolved without it. ACE Money Transfer holds dedicated customer support to assist Filipino customers throughout the transfer process.
User-Friendly Interfaces
ACE Money Transfer website and mobile app are designed with a highly interactive and user-friendly interface, simplifying the initiation and tracking of transfers.
Trustworthy and Reputable
Regulated by the Financial Conduct Authority (FCA) in the UK as an Authorised Payment Institution (API), ACE Money Transfer is a trusted and reputable money transfer service provider that ensures reliability and integrity for customers worldwide.
The Way Forward
Bringing exciting campaigns with enticing rewards for customers makes ACE Money Transfer a unique provider in the market. It does so in order to benefit its customers in every possible way. The current campaign, specifically designed for its Filipino customers across the UK, Europe, Canada, Australia, and Switzerland, and their remittance beneficiaries back in the Philippines, is a testament to its dedication and unwavering commitment that keeps strengthening with time. 
As the time is running fast, don't wait any more and benefit from Fee-Free transfers, and stand a chance to win one of nine iPhone 14 Plus for yourself and one of 3 brand-new Honda Click 160 Motorcycles for your loved ones. 
By combining the convenience of remittance services with the excitement of winning, ACE Money Transfer demonstrates its unwavering commitment to customer satisfaction and engagement. With a simple process, low-cost money transfers, and the possibility of winning enticing prizes, ACE ensures a seamless and rewarding experience for its customers.