Turn off Safe Mode on Android – Not only on Windows devices, but smartphone devices with the Android Operating System also provide a Safe Mode feature.
This mode is usually used by users to diagnose system performance and also track whether there are any error problems in it.
The existence of this mode will make it easier for users to troubleshoot or repair Android systems in particular. To access Safe Mode, users need to do a special trick.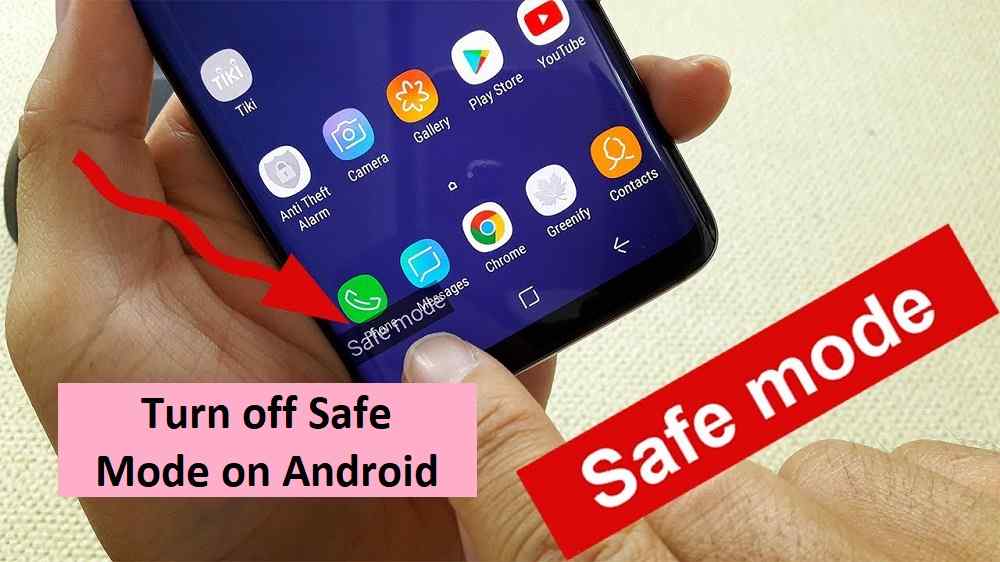 At first glance, Safe Mode is similar to the main display on an Android smartphone screen. It's just that, on one side of the screen there are the words Safe Mode, more precisely in the bottom corner of the screen display.
In the Safe Mode display, only the use of the Android cellphone will be limited, where the cellphone can only carry out its main functions.
Apart from that, what is displayed on the menu screen are only system and default applications, applications that you install manually will be hidden and cannot be accessed.
When the cellphone enters Safe Mode, some users think that the cellphone is damaged, but in fact, this is not the case.
Generally, to be able to enter Safe Mode, users need to press a certain key combination. If your Android phone displays Safe Mode by itself, it could be that there is a problem with the Android system.
For example, when you are busy operating your cellphone, your cellphone suddenly restarts and enters Safe Mode. If it's like this, try to exit Android Safe Mode using the method provided.
Don't know how to remove or exit Safe Mode? Here's how to remove Safe Mode on Android in full, which you can read.
Causes of Entering Safe Mode on Android
Before proceeding to how to exit Safe Mode on Android, you should first know what causes your cellphone to enter this mode.
As explained above, entering Safe Mode, can be done manually, namely by pressing certain physical buttons on the cellphone. However, if the cellphone automatically enters Safe Mode, then this needs to be found out.
Several factors can cause your cellphone to display Safe Mode, including:
Accidentally pressed certain buttons. The way to enter Safe Mode on Android is by pressing the Power button for a long time until the Power Off, Restart, and Emergency Mode options appear. Then you press and hold on to the Power Off option and select Safe Mode. It's possible that you accidentally did this method so that your cellphone entered Safe Mode.
Viruses and Malware. Apart from pressing a button, another reason why a cellphone enters Safe Mode automatically is because viruses and malware enter it. Viruses and malware can enter from illegal websites, MOD applications, MOD games, and so on.
Application malfunctions. Applications installed on an Android device can also cause the cellphone to enter Safe Mode. For example, an application that does not function as usual causes the Android system to error and enter Safe Mode without the user's command.
The Android system has a bug. Another cause is a bug in the Android system, either due to user operation or a system error.
HP rooting activity. Rooting a cellphone can indeed make users free to repair the system and make modifications. However, this often causes the Android system to experience error problems, one of which is often entering Safe Mode.
How to Remove Safe Mode on Android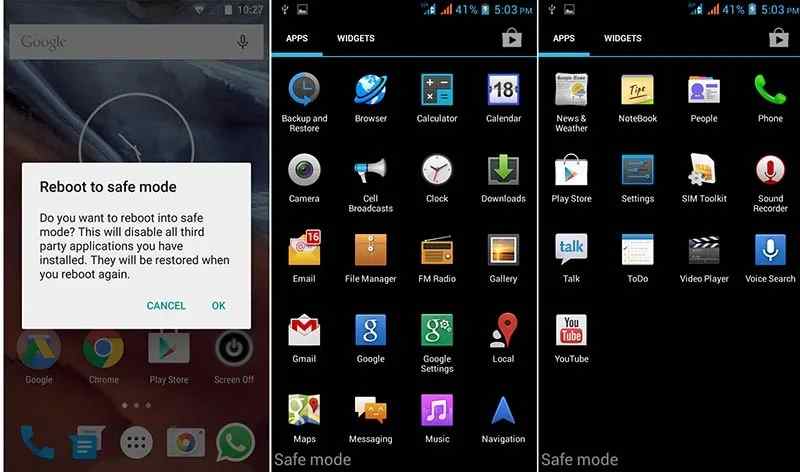 Knowing several reasons why an Android cellphone displays Safe Mode, now move on to how to exit that mode. There are several methods you can use to exit Safe Mode, including:
1. Restart your Android cellphone
The easiest way to exit Safe Mode is to restart. Like the main display on a cellphone, Safe Mode also provides options to turn off the power and restart. You can use this option to exit the display.
To restart a cellphone that has entered Safe Mode itself, namely:
Press and hold the Power button until several options appear on the screen.
Next, you select the Restart or Restart (Reboot) option.
Later, the cellphone will restart by itself, and then display the main menu screen as usual.
Finished.
2. Remove the Android cellphone battery
If the method above cannot be applied, another alternative that can be done to exit Safe Mode is to remove the cellphone battery. This method is of course only recommended for cell phones with non-removable battery support.
The reason is, with a built-in battery it will be more difficult to remove the battery. You need to dismantle the back casing of the cellphone, which of course can only be done by users who understand it.
Removing the cellphone battery will make the cell phone completely dead. After removing the battery, you plug it back into the cell phone.
Then turn on the cellphone as usual by pressing the Power button. Usually, the cellphone will display the main screen, instead of entering Safe Mode.
3. Uninstall Certain Applications
If you experience this when you just install a new application on your Android cellphone, then you can be sure that the problem with entering Safe Mode is caused by that application.
This is more likely to happen if you download the application from a site other than the Google Play store. Most likely the application is not functioning perfectly or there is corrupt data in it, causing an Android system error.
It is best to uninstall or uninstall the application so that the cell phone returns to normal. To do this, press and hold the application icon you want to uninstall, then select the Uninstall or Uninstall option. If so, restart your Android cellphone as usual.
4. Clear Android Cache
Cache stored in memory can also cause the cellphone to enter Safe Mode by itself. For this reason, you need to delete the cache so that your cell phone returns to normal. As for how to delete it yourself, namely:
First, turn off your cell phone as usual.
Then press and hold the Power + Volume Up button (other cell phones use the Power + Volume Down button combination) for a few seconds until the cell phone turns on.
Later you will be taken to the Recovery Mode page.
On that page, select Wipe Cache, then confirm deleting the Android cache file. Use the Volume buttons to navigate options and the Power button to select or execute options.
If so, then select Reboot System Now.
Finished.
5. Perform a Factory Reset
If the method above still cannot solve the problem of your cellphone continuously entering Safe Mode, then the final method you can use is to do a hard reset or factory reset.
Applying this method will delete all data stored in the internal memory, so you need to do a backup if there is important data in it.
To do a factory reset on Android itself, you can do it via the Settings menu and Recovery Mode. Here we will explain how to factory reset Android via Recovery Mode, namely:
Turn off your cell phone as usual.
Then turn it on by pressing and holding the Power + Volume Up button until the display appears on the screen.
On the Recovery Mode page, you select Wipe Data / Factory Reset.
Then confirm by selecting Yes, Wipe Data All.
If so, then select Reboot System Now.
Finished.
Closing
That's an easy and effective way to remove Safe Mode on Android that you can try to apply. Hopefully, the information above is useful.