Well, In this article, We will share how to convert 4k video to 1080P with the help of the best free 4K to 1080P converter software for Windows. 4K or UHD videos are currently very popular but many devices don't support or can't play videos with 4k resolution.
Therefore, to play 4k videos on multiple devices, you need to reduce the 4K video resolution to 1080p or 720p.
To reduce video resolution, you need a video converter that supports the 4K resolution and can change it to 1080p. To solve this problem, I have compiled a list of 4K converters to 1080p.
Most of these converters are standard video converters where you can change the video resolution, form, image frequency, aspect ratio, and various other video parameters. You can also easily convert 4k to 1080p videos easily.
In some software, you can also find various video editing features, video players, and video previews.
The conversion process of 4k to 1080p is quite easy in all the software that I will mention below. Plus, the ability to change many audio and video parameters is also quite good. Next software converts video 4k to 1080P.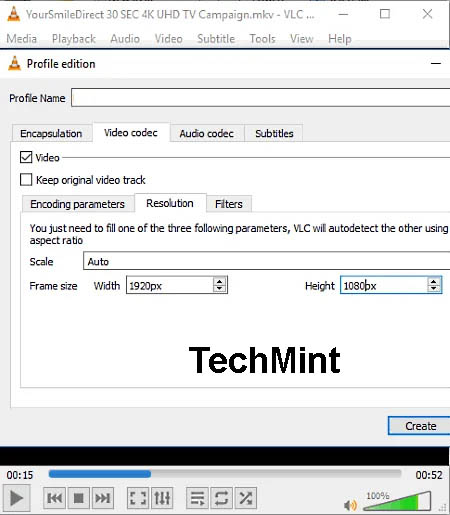 VLC Media Player is my favorite software because it can convert any 4K videos to 1080p resolution faster than other similar software. Plus, its ability to support almost all video formats is also impressive.
VLC Media Player is a free 4k to 1080p converter software for Windows. This is a popular media player software that can play video and audio files from almost all formats.
In addition to playing media files, VLC is also able to change video resolution and video format. You can convert several 4K videos to 1080p (FHD), 720p (HD), 480p, and various other resolutions.
In terms of video format, VLC is capable of supporting many input and output video formats such as WMV, MOV, MP4, FLV, AVI, RAW, MKV, and more.
How to convert 4K videos to 1080p using VLC Media Player:
Launch this software and open the Media> Convert / Save section.
Now, add one or more 4K video files and press the Convert / Save button to open the Conversion section.
From the Conversion section, first, select one of the available video profiles (H.264 + mp3, H.265 + mp3, etc.) and press the Edit Profile option to select the video output format and resolution.
To set the resolution, select the Video Codec tab from Edit Profile and manually enter 1920 * 1080 in the Frame Size field and press the Save button.
Finally, press the Start button to begin the conversion process.
This software converts 4k videos to 1080p at a much faster rate compared to various other similar software. Overall, this is one of the best 4k to 1080p video converters.
Download VLC Media Player directly from the official site.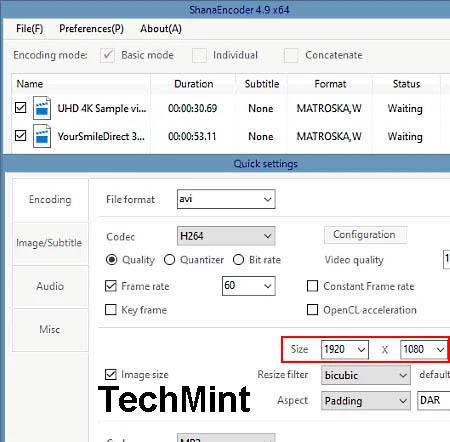 ShanaEncoder is a free 4K to 1080p converter software for Windows. This free application allows you to convert any 4K videos to 1080p resolution.
Not only 1080p, but you can also convert 4K to almost all resolutions because it allows you to specify the output resolution manually.
In it, you can also convert 4k video formats to formats such as AVI, FLV, MP4, WEBM, WMV, RAW, etc. Plus, audio extraction from 4k videos is also possible in this software.
Read Also: Tricks to Root Android without a PC Just One Click
How to convert 4K videos to 1080p using ShanaEncoder :
First, add 4K videos or videos to this software and access Quick Settings by pressing the Quick Settings button.
From Quick Settings, you can manually set 1080p resolution along with other video parameters such as Frame rate, Quality, Codec, Video Format, Aspect Ratio, Sample Level, etc. After setting everything, press the Save settings button to save the settings.
Now, just press the Start button to begin the process of converting UHD to FHD.
In this software, you also get some advanced features such as Priority (for setting priority tasks), Accelerated Hardware Decoding, Multi-Thread support (to reduce conversion time), etc.
Download ShanaEncoder directly from the official site.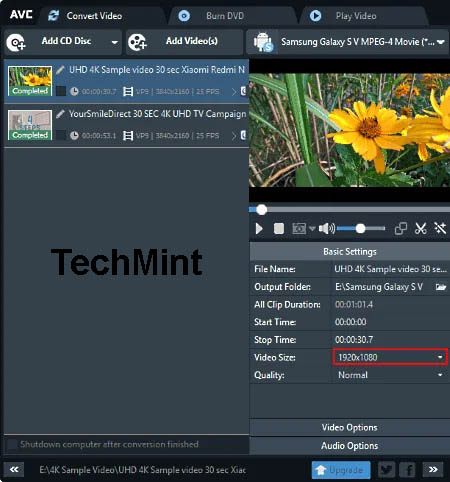 Any Video Converter is another free video converter that can also be used for 4k to 1080p conversion. In it, you can add several videos and do a batch conversion of 4k to 1080p.
By entering basic settings, you can choose a video resolution of 1920 * 1080. There are many special devices (Apple, Samsung, tablet, etc.) that you can choose the resolution according to your device.
Apart from video resolution, this software also allows you to change video codecs, video bit rates, and video quality (low, medium and high). Video quality affects video size, so keep that in mind before conversion.
The Video Player
This software also provides several video editing tools. Using this editing tool, you can add effects, cut videos, merge videos, and add watermarks to videos. You can also see the edited video using the video player.
Other useful utilities here are video downloaders, online video players, and DVD burns. This software is also quite flexible in terms of video formats, so you can add any video without worrying about the video input format.
Download Any Video Converter directly from the official website.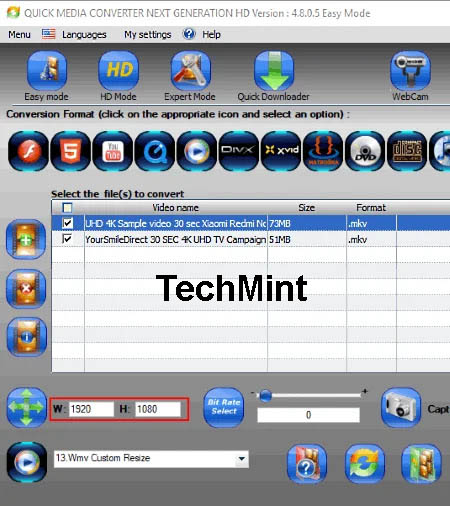 Quick Media Converter is the next free 4K to 1080p converter software for Windows. This software is similar to various other media converters that allow you to convert video formats, video resolutions, and many other video parameters.
To change various video parameters along with video resolution, this software provides three different modes, namely Easy mode, HD mode, and Expert mode.
Let's look at the three modes that can help you convert video resolution along with other video parameters:
Easy mode: This is a fairly easy-to-use mode, the output video format that you can choose (HTML5, MKV, PAL, WMV, etc.) video formats And manually determine the resolution and bit rate of the video output.
HD mode: In this mode, you get a variety of video formats (MPEG, VOB, MV2, MKV, etc.) with Full HD (1920 * 1080) or HD (1280 * 720) resolutions. Just select one video format with the specified full HD resolution and press the Convert button to start the conversion.
Expert Mode: Using this mode, you can manually specify video resolution like Easy mode. However, this mode also allows you to modify many other video parameters such as Codecs, Aspect ratios, bit rates, frame rates, etc. Which is not provided by the two previous modes.
In this software, you also get several additional tools, namely an inbuilt webcam application, video downloader, multiple language support, and video player.
Download Quick Media Converter directly from the official site.
Conclusion
hopefully, you will enjoy the above mention software. Thank you.