Compared to racing, puzzle, action, or other genres, the horror genre is one that is more intense. Even though it has a specific market, in fact, horror games are games with a genre that is quite popular.
Furthermore, Android horror game hobbyists usually have their own preferences. One of the most popular is the zombie game, which of course has its own uniqueness and horror.
Whether it's game players on PC, on consoles, to Android, of course, they have a preference for this one genre. So, for those of you who are curious, but want to try playing zombie games on Android, we have a list!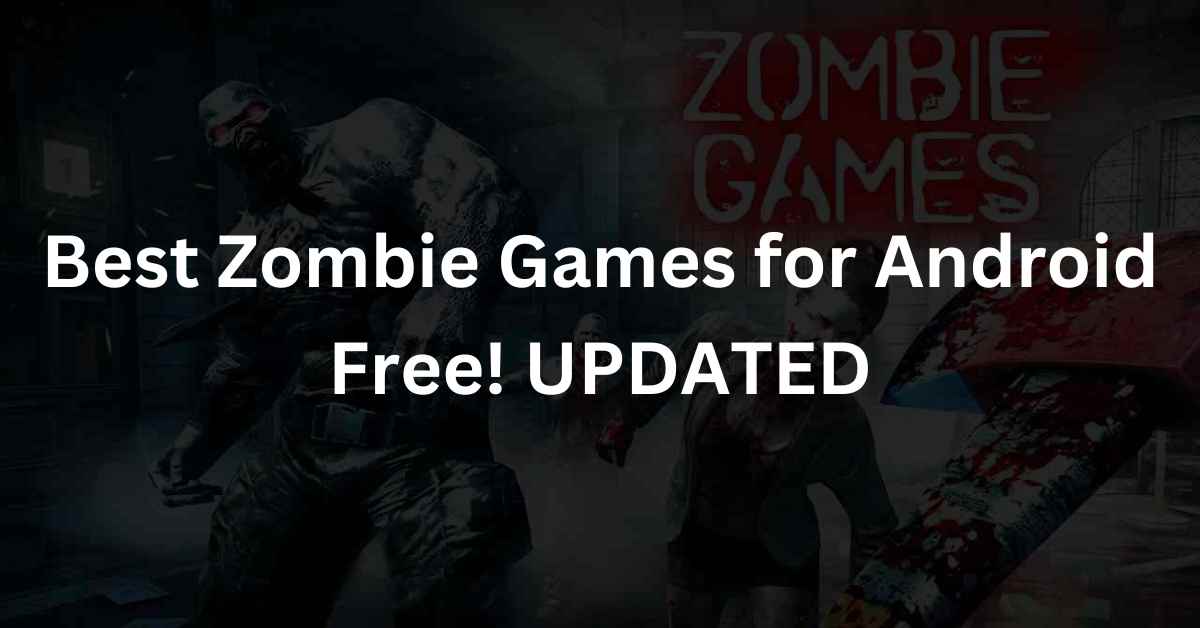 1. Dead Trigger 2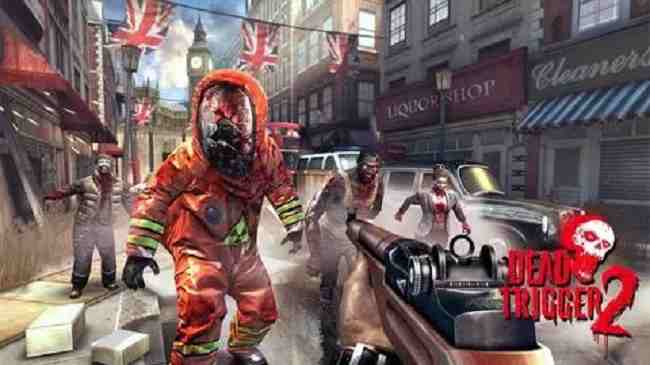 Released in 2013, Dead Trigger 2 has successfully met the expectations of many gamers who use Android. Not only that, even this game has received praise and various praise from many game critics and reviewers out there.
Carrying the theme of a first-person shooter adventure wrapped in the horror of survival in the zombie apocalypse era, you are required to be able to build hideouts, assemble weapons, and become an all-around technician.
Until now Madfinger as a game developer even provides more than 600 war scenarios with storytelling which of course takes a long time to be completely devoured.
Not to mention the freedom to choose controls where you are free to choose controls using a virtual joystick or by using direct touch screen controls, which are said to be the best controls for FPS games today.
Apart from that, there is a quite controversial feature released by Madfinger, namely the auto-firing feature where you simply point your weapon at the zombies and later you will automatically shoot them.
But don't worry, because you can still turn off this feature, maybe this kind of feature is deliberately provided for those of you who are not too familiar with first-person shooter games on Android cellphones or tablets.
Not only in terms of gameplay, Dead Trigger 2 has also succeeded in becoming one of the best Android zombie games because of the graphic display and the quality of the sound it provides. You could say it's one of the best.
The point is this game is suitable for those of you who want to try to jump right in as a fighter against the zombies that roam around while building your own hideout. This means you can play survival and FPS games at the same time!
This game is arguably almost perfect, not perfect. Because for offline games without a multiplayer mode, you still have to be connected to the internet every time you want to play this game. Ouch, this can be quite annoying! Overall 9.5/10!
2. Into the Dead 2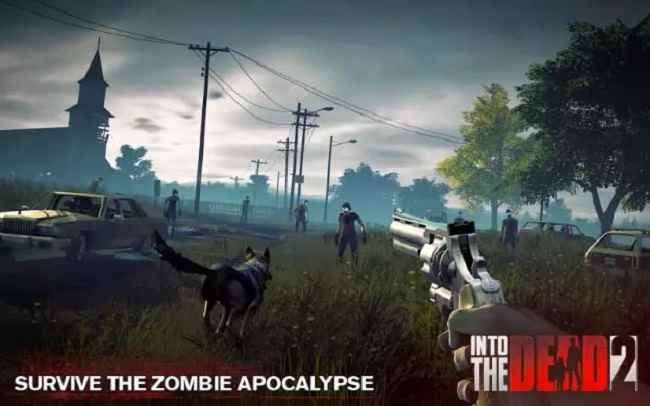 Made specifically for mobile and tablet users, those of you who don't want to be bothered playing zombie apocalypse-themed games need to try playing Into The Dead 2 at least once.
You will play as a character who will continue to move forward according to his will, from a first-person perspective, aka first-person shooter. Then, as we said before, all you have to do is pay attention to obstacles and shoot zombies to survive.
In the beginning, you will only be equipped with a handgun which can be considered sufficient but also not sufficient. But as the level and journey increase, you will be given the opportunity to get various kinds of weapons.
Throughout the adventure, you can get ammo from the weapons you use by 'crashing' yourself into the ammo that is there as long as you run. Unfortunately, you won't know which ammo you got for which weapon.
For each episode, all you need to do is run and help the characters fight the zombies that are in their way. With the aim of reaching the endpoint, so there are times when the choice to avoid zombies is the best choice.
So, to avoid that temptation, you are then given several objectives in each episode. For example, you have to kill zombies with weapons, which is basically to keep this game fun.
However, this game is also equipped with a story mode so you can still play in a more focused way. But if you want to play freely, you can play arcade mode where you just have to kill as many zombies as you can.
In the end, this game still deserves to be one of the best Android zombie games to play. Especially for those of you who don't like survival trivia, like building houses, crafting, looting, and the like.
Because in Into the Dead 2, you are not required to do that but only run, shoot, and dodge until you find the final goal in each episode.
Until now you will be given 7 chapters with 60 stages and a story that continues to grow with multiple endings. Wow, we think you have to play this game at least once in your life! Who knows it's addicting!
Also check: Recommendations Best PC Zombie Games for Free
3. Last Day on Earth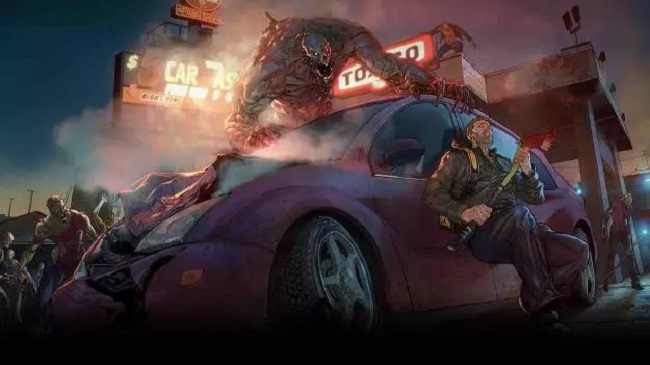 Last Day on Earth (LDoE) is perhaps one of the zombie survival games on Android that have been known for a long time, and you even need to know that now it's a game made by Kefir! It already has many players around the world.
With the action RPG genre, this game has succeeded in captivating gamers and of course, it can be one of the games that will spend your time, of course. Because there are lots of things you can and need to do in this LDoE.
The main keys of LDoE are collecting, crafting, and surviving! Those three keywords you need to think carefully about. After all, throughout the game, you are required to be able to collect resources carefully, then do crafting and build a base camp so that you can survive zombie attacks.
One of the main keys in an action RPG game of this kind is variability, and that is what Kefir highlights! Even though we really feel the need to criticize the variability of the zombies and the existing zombie tiers.
To be honest, in terms of enemies, creatures, and zombies, there aren't too many variations, so over time you will be able to learn about their characteristics. After all, surviving these zombies usually does not require a strategy that is too much different, even though the types of creatures are different.
But kefir! Don't stand still, Kefir! instead, it makes the resource locations in the game as random as possible so you will never get bored when looting and crafting.
In terms of control, we think this game is quite easy, and the general controls are in the form of the ability to crouch or crouch, to walk stealthily, as well as controls for actions, for example, to attack zombies.
Apart from that, you can also attack each other between players, with the goal of course seizing the property owned by each player.
But be careful of course because you have to be able to estimate, roughly whether your character is stronger or even weaker. If you're weaker, of course, you have to be prepared to die and have your things stolen.
However, there are some drawbacks that you need to know, the first drawback is that the energy system is easily drained. In fact, to move to and fro on the map (which is unfortunately quite far) requires a lot of energy.
In addition, every day there will be the possibility of zombies attacking your base camp, even if you don't play this game. So maybe this is a kind of system that forces you to keep playing.
In the end, for those of you who like to build basecamps while playing survival RPGs, this game is suitable and worth downloading!
4. Unkilled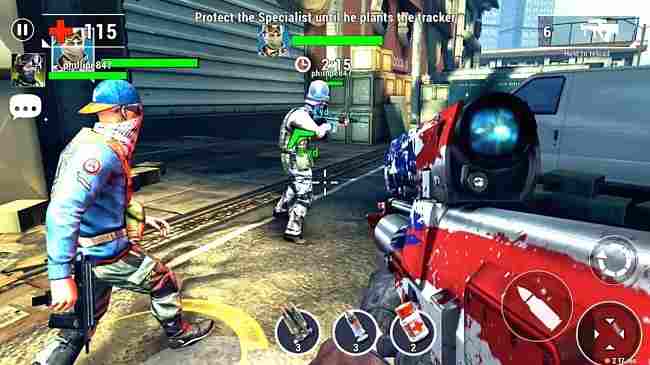 Madfinger seems to want to prove that they are one of the best first-person shooter zombie-themed game makers on Android. After Dead Trigger, Dead Trigger 2, they are now releasing Unkilled which is no less exciting.
The theme is still the same, namely survival from zombie attacks by using sophisticated weaponry. Apart from that, you will also be presented with more than 150 missions which certainly won't make you bored quickly.
Still from variability, Madfinger offers several zombie classes with different abilities, besides that, they also offer more than 40 weapon choices from a total of 5 weapon classes.
If you are a gamer who likes old-style skins, even in this game Madfinger has provided quite a variety of customizations so that your character can look different from other people's characters.
Since its release in 2015, this game has been downloaded by more than 30 million people! A pretty big achievement especially for a game with this kind of zombie first-person shooter genre.
In Unkilled, you will be standing against a group of zombies ready to pounce on you. With controls that are simple but still elegant, in our opinion, they certainly complement your satisfaction in playing FPS games.
Interestingly, instead of concocting a strategy, hiding, and killing like that with stealth mode, in this game, you are only required to attack zombies while continuing to move blindly.
For those of you who have played Dead Trigger, you must be quite familiar with this game. Because yes, Madfinger does seem to fully adapt, starting from the style of play to the controls of Dead Trigger.
The difference is, of course, that Madfinger learns a lot from the flaws in Dead Trigger. Starting from the lack of a storyline, which is then perfected so that Unkilled has a plot that can be followed in the free-to-play mode.
Well, it's not completely free to play anyway, Madfinger still sets a double currency system. But indeed you can get cash much more easily here, both by completing the game and watching existing advertisements.
5. LifeAfter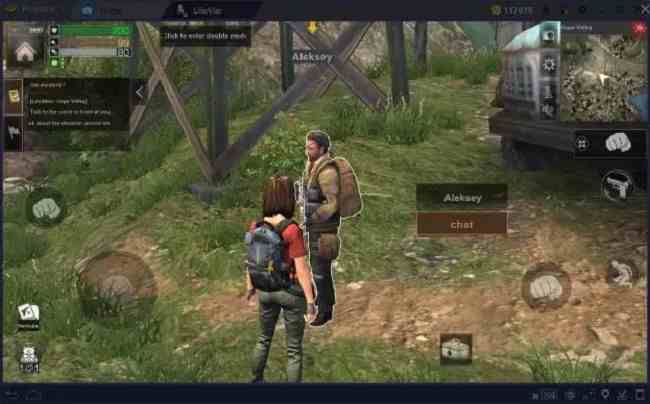 If you like games based on building a basecamp, while hunting, gathering resources, defending yourself from zombie attacks, and (of course) playing from a third-person perspective, then LifeAfter is the answer.
If it's still incomplete, of course, you should know that this is an online game, aka multiplayer. So, it's no wonder that NetEase Games has received a lot of praise for its decision to release LifeAfter.
At the beginning of the game, you will meet a survivor who has a military style. Later you will be 'trained' in various skills, from cutting down trees and building base camps, to shooting zombies.
Well, actually this is done by NetEase as a tutorial for those of you who are new to playing, so that it's fun, of course, given the storyline. It's no wonder because in our opinion LifeAfter has a variety of controls that are certainly better if 'taught'.
After this long process, you will later meet Hope101 who saved you before. After this, you will start your storyline alone in the middle of a forest full of zombies.
You will be released in the forest with your capital of knowledge, and the first thing you have to do is build a base camp. This is where all your adventures come from in the game.
So while hunting, gathering food, and exploring the forest, you are required to survive. Especially at night, zombies will appear, which will certainly interfere with your adventure.
Graphically it needs to be said to be honest this game has amazing graphics. In fact, in our opinion, this game deserves to be a game that can be played on consoles or PCs, of course with improvements.
However, you don't need to worry because this game has graphic settings that can be set quite low. At least for Android phones that are 4-5 years old, you can still play this game.
But unfortunately, there are some quite harsh complaints and criticisms against NetEase. The reason is that many players feel that in order to grow far enough you need to pay, yes, this game is indeed a freemium game.
But anyway, in our opinion, even without paying, we can still enjoy this game, and indeed the key to this game is patience. Until finally you can build a basecamp according to your wishes.
6. Dead Effects 2
Still from zombie-based survival games with a first-person shooter background, Dead Effect 2 is here to satisfy your desire to fight and shoot against various kinds of scary creatures.
It's not without reason that we included Dead Effect 2 in this list of the best Android zombie games that you can play. There are several things you need to consider, which in our opinion are the main attraction of this game.
Starting from the quality of the graphics and sound which in our opinion is on par with the quality of consoles and PCs, because this game uses NVIDIA technology with various kinds of realistic effects and a beautiful environment.
Up to the gameplay, which we think is interesting. Not in terms of the shooting and action offered, but in terms of existing character development. In this game, you are given several variations.
Starting from the freedom to choose 3 personas or 3 personalities, the freedom to train and develop character skills, to a system that allows you to upgrade more than 100 body implants and gear sets, not to mention weapons!
Besides that, if games like this tend to be monotonous and get boring quickly, Dead Effect 2 again offers up to more than 20 hours of campaign gameplay and more than 10 hours of special missions, which of course keeps you from feeling bored.
Even in terms of control, this game can be said to be perfect, starting from the full controller support you have to the on-screen control features that you can fully customize. Just create a layout you like and voila! You are combat-ready!
It's no exaggeration if many think that this mobile game has opened the eyes of many people. Where many people then think that even mobile games have the potential to compete with console-class games!
So what are you waiting for, when will you be able to play console-class games using only your Android phone?
7. The Walking Dead: Telltale
Unlike the previous games, which were mostly free roam and action in nature, The Walking Dead is a zombie-themed game that emphasizes the story aspect where you can choose various options to continue the game.
If we just listen to it, we think it sounds boring, but anyway, Telltale has succeeded in making this kind of story-based game very interesting to play.
Inspired by the series created by Robert Kirkman, you can feel the sensation of being a character in the story. But of course with some controls that you can choose.
Even though it is choice-based, every choice you make will later change the overall storyline. Basically, all the consequences are what you have to carry out in the future.
Most of the game styles offered in this game are in the form of dialogues between characters, and you are required to be able to choose whatever you have to say.
For example, in one dialog if you choose A, then later you will be with the new character and if you choose B then the new character will be your enemy throughout the story.
In this game, your emotions will likely be stirred, by all the choices and scenarios that exist. With all the consequences of all the choices that make you have to think hard every time you talk to other characters.
Apart from that, of course, Telltale also takes this momentum by releasing up to 4 episodes each of which you can play, and 1 additional episode with a non-linear storyline. This means you can play this game repeatedly and see different endings!
But in the end, these kinds of games are not for everyone. Especially for those of you who want a zombie game full of action, freedom, and brutality. Of course, this game is not for you.
8. Dark Days: Zombie Survival
If you view this game, surely you will be immediately familiar with Last Day on Earth and maybe a few LifeAfter elements. Not even a few reviewers and critics out there call this game a Last Day on Earth wannabe.
Most even really juxtapose this game with LDoE made by Kefir! Which is not without reason. Especially with realistic styled graphics but with a cartoonish touch like this.
But fortunately, Azur Interactive, who developed this game, managed to break people's expectations thanks to gameplay, a third-person perspective that LDoE doesn't have, and of course, the controls are pretty good for this kind of mobile game.
Azur Interactive itself claims that Dark Days is one of the games in the tactical survival shooter genre where they deliberately combine survival-themed games with tactical shooters.
The main mission that you have to carry out is, of course, building your own basecamp alias last shelter, gathering resources, and making weapons and various equipment, while fighting against zombies who are ready to attack.
Besides that, because the world that was created is wide, later you can use a car or motorbike as your vehicle. But of course, you have to collect materials and assemble it first.
This game is still relatively new, with many improvements made by Azur Interactive. That's what makes it currently still interesting because the latest updates are constantly being made.
Some of the deficiencies that are often found in some players are the occurrence of bugs at the start of loading. Most of them are stuck when loading is in the position of 40% to 60%, and this complaint turns out to be quite a lot.
But we ourselves have no problems, and of course, we hope that Azur Interactive will fix this shortcoming. Because this game is honestly a game with a lot of potential, and of course it needs a lot of improvement, but it's still worth trying.
9. Zombie Survival: Wasteland
So, if you want to play a survival game whose goal is to build a shelter against zombies, but don't like cartoonish graphics like Last Day on Earth, then Zombie Survival: Wasteland is the solution.
The style of play is the same, from the same point of view. But in our opinion, it has a graphic quality that is even feasible for you to play on the console or PC that you have because the 3D view is really okay.
Just imagine playing the game Last Day on Earth but with graphic quality like Player Unknown's Battleground! So, that's about a brief description of this game that you can catch. But how about the gameplay?
Well in the end it's really similar to Last Day on Earth, some things you can do in this game are collect resources, make weapons to survive zombies, and loot zombie corpses.
Build shelters (of course!), maintain health points, while keeping your stomach from getting hungry, do crafting, explore a fairly extensive map, and the most important thing is PVP, aka player vs player, where you can fight each other with other players.
If you can win the battle of course you can rob them, but of course with the risk that if you lose you will be robbed later. Then if you are attacked you can really take revenge. Wow!
Unfortunately, even though this game has received various praise in terms of gameplay because of its advantages, especially when compared to zombie survival games on Android. Still, there are some criticisms you need to know.
One of our biggest criticisms, similar to criticism of some of the survival games on this list, is that in our opinion this game is too expensive to buy.
This is indeed quite annoying, especially as if without buying it with cash it seems that the players will find it quite difficult to develop. So that in the end they are "forced" to buy to be able to continue advancing in the game. But even so, still, this game can be said to be almost perfect!
10. Flat Zombies: Defense & Cleanup
If in previous games you were presented with android zombie games with fantastic graphics, now allow us to review a zombie game that is quite anti-mainstream in terms of graphics: Flat Zombies!
Perhaps PaVolDev deliberately gave the game a flat name, because after all this game uses a flat graphic style. But of course without reducing the excitement that exists.
In terms of ideas, nothing is too new, the point is that you will be equipped with various kinds of weapons and will fight zombie attacks that come in waves.
Similar to some existing zombie survival games, you will be forced to fight zombie attacks repeatedly, and of course with several different types of zombies and the number will increase over time.
In addition, at each level, you will only be given three lives, in essence, you are only given the opportunity 3 times for each level until you can clean up the zombies.
If you lose all your lives on one level, then you will automatically lose all the weapons you have to fight against the previous zombies.
In the end, we think that occasionally we need casual games like this. Even for genres that often have serious, realistic, and scary stereotypes like zombie games.
Apart from that, because this game is still under development, PaVolDev as a developer can be said to be very responsive to various criticisms and input on Google Play and quickly fixes existing bugs.
So that's one of the important points why we included this game as one of the best Android zombie games that you can play right now. Even though it's simple, believe me, this game is addicting!
11. Last Hope Sniper: Zombie War
Last Hope Sniper: Zombie War is a series released by JE Software AB. Several other series include Last Hope TD ( Tower Defense ): Zombie War, and Last Hope Sharpshooter: Zombie War.
As if to claim to be one of the best shooting zombie game makers, JE Software AB names all the games they make with the Zombie War title. But are the frills really as good as the games they make them out to be?
Among the several series, Last Hope Sniper: Zombie War is known to be the last of the three series. That's why it can be said that this game is full of expectations from its fans, and JE Software AB has succeeded in answering this challenge!
The first impression we get of this game is its unique graphic display. Although based on realistic 3D, JE Software AB provides cartoonish touches that give it its own color.
Even though it looks like a cartoon, it doesn't make this game lose its glory as a game in the first-person shooter genre. You will still get quite realistic aiming and shooting sensations in this game.
Although, on one or two occasions, a frame rate drop is often found, which for some reason occurs. Maybe this can be overcome with a game booster, or indeed a bug in the game. Well, hopefully, it can be fixed.
Some interesting features that of course are present in this game are story-based missions which number more than 150, and in our opinion, this is quite important so that games with this kind of theme are not monotonous.
You can also collect more than 25 existing skills while continuing to upgrade the weapons you have. Starting from pistols, revolvers, shock bullets, rocket launchers, poison grenades, power shields, and many more!
In terms of control, we think it's quite intuitive, so of course, in our opinion, this game will bring its own satisfaction, especially for those of you who really have a special interest in games with the theme of first-person shooters.
12. Plants vs. Zombies Series
As for this one game, who doesn't know it? It feels like discussing the best Android zombie games without discussing Plants vs Zombies is a big mistake, right?
EA as a developer has indeed crossed the line in the gaming world, which of course is only natural if it succeeds in making a simple game like Plants vs Zombies that can become a game that is very popular throughout the world.
In fact, in our opinion, Plants vs Zombies is no longer just a game, but has become a brand that can be transformed into various items and digital objects, such as Plants vs Zombies watch faces, example.
Adapted from games played on PC before, this game has successfully transformed into one of the best Android games you can play. Even though the theme is quite simple, arrange super plants to fight against the zombies' onslaught.
Especially when compared to other zombie games on Android, which are mostly themed shooting, survival, and shelter building. Plants vs Zombies, in our opinion, is indeed a breath of fresh air amidst the clamor of zombie games like that, thanks to EA and PopCaps!
The key to the success of this game in our opinion is the very high variability, starting from the hundreds of types of plants with their respective abilities, to zombies which also reach hundreds of types with different abilities and types of attacks.
Not to mention that the number of arenas is also very large and currently there are up to 11 worlds with each of them having many arenas. Call it Ancient Egypt to Far Future which if you add up the total you have to complete more than 300 levels.
If that's not enough, EA also provides various kinds of challenges, mini-games, to daily Pinata Party events which of course will continue to be updated regularly so it seems that playing this game seems endless!
The way to play is quite simple, that is, you just need to plant various kinds of plants with their respective functions, from peas that can shoot to potatoes that function as a defense on the front line.
You have to consider the zombies that will attack, of course, because each zombie has its own characteristics. Some were destroyed in a few hits, others took several hits over a long period of time.
The main goal is to defend yourself so that no zombies can penetrate your defense to the last layer. Easy isn't it? So what are you waiting for, our advice is to play alone and get ready to get addicted to playing this casual game!